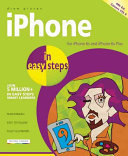 $27.99
AUD
Category: Information Technology and Computers | Series: In Easy Steps
In full-color and straightforward, jargon-free language, the sixth edition ofiPhone in Easy Steps gives you all the information you need to get up and running with your new iPhone, so you will quickly feel you are in control of it. Learn how to find your way around the iPhone and customize it to your re quirements, find and download apps, make and receive texts, phone and video calls, use email and social networking accounts, and access music, movies and books. Also discover how to take and edit photos and videos, surf the web and shop online, and share content with family members. The sixth edition ofiPhone in Easy Steps takes the mystery out of using your iPhone and shows how it can become your most useful digital companion, ready to help keep you in touch, up-to-date and entertained. Covers iOS 9, the operating system released by Apple in September 2015. ...Show more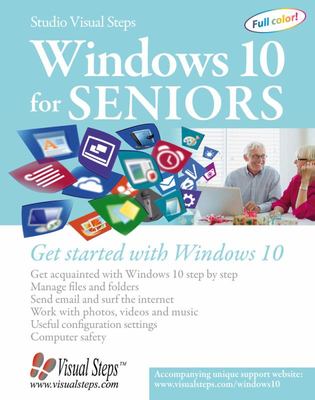 $39.99
AUD
Category: Information Technology and Computers | Series: Computer Books for Seniors Ser.
The ideal book for older adults that have already worked with an earlier version of Windows and want to get up and going with Windows 10, this guide covers all of the important basic functions, including browsing the internet safely, sending and receiving email, organizing files and folders, viewing pho tos and videos, and listening to music. The book allows users to learn step by step and at their own pace how to work with the new programs and features in Windows 10, as well as how to configure Windows 10 to make their computers more user-friendly. It offers additional exercises for practicing a variety of different tasks, and there are instructional videos available online on the book's support website. ...Show more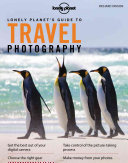 $29.99
AUD
Category: Information Technology and Computers | Series: Lonely Planet Ser.
Lonely Planet: The world's leading travel guide publisher The best-selling Lonely Planet's Guide to Travel Photographyis written by internationally renowned travel photographer Richard I'Anson. He shares his wealth of experience and knowledge about travel photography in this jargon-free guide to taking better photographs. This new edition has been thoroughly updated and refreshed with up-to-the minute advice, information and instructions on how to take amazing travel photographs using the latest digital cameras. It also includes tips on how to get great results from smartphones, DSLR cameras, drones and GoPro action cameras. The author explains: How to get started in travel photography What kit is required - whether you?re an enthusiastic amateur photographer or a budding professionals - and how to use it Types of software and computers needed to process pin-sharp images On-the-ground advice, including photography etiquette, safety and security Essential advice and know-how on lighting, composing and shooting great images How to choose the best lense, set aperture, shutter speeds and exposure Detailed instructions on taking photographs of moving subjects, portraits of people, landscapes, cities, wildlife, festivals, food and drink Processing, saving and sharing digital images using various software programs, and even selling travel images. Lonely Planet's Guide to Travel Photography is the definitive handbook for anybody keen to improve the photographs they take on their travel trips and wow their friends and family at home. It's a long-standing success and will continue to inspire a new generation of travellers with the updated information and tips inside. About Lonely Planet: Started in 1973, Lonely Planet has become the world's leading travel guide publisher with guidebooks to every destination on the planet, gift and lifestyle books and stationery, as well as an award-winning website, magazines, a suite of mobile and digital travel products, and a dedicated traveller community. Lonely Planet's mission is to enable curious travellers to experience the world and to truly get to the heart of the places they find themselves in. TripAdvisor Travelers' Choice Awards 2012, 2013, 2014, and 2015 winner in Favorite Travel Guide category 'Lonely Planet guides are, quite simply, like no other.' ? New York Times 'Lonely Planet. It's on everyone's bookshelves; it's in every traveller's hands. It's on mobile phones. It's on the Internet. It's everywhere, and it's telling entire generations of people how to travel the world.' ? Fairfax Media (Australia) ...Show more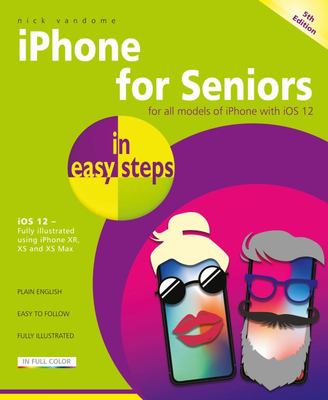 $27.99
AUD
Category: Information Technology and Computers | Series: In Easy Steps Ser.
iPhone for Seniors in easy steps, 4th edition covers everything the reader needs know to keep fully connected. The book shows how to: Make and receive phone calls Text with the Messages app, including a variety of new fun features Make video calls with FaceTime Set up and use email accounts Use S ettings to customise your iPhone exactly to your style and requirements Use Apple Pay on your iPhone to pay securely - no need to carry your wallet all the time Master the newly designed Control Center Explore the entire iTunes Music library, share music, videos, apps, calendars and photos with family members - stay in the loop with children and grandchildren An in-depth chapter on iCloud, Apple's online storage, sharing and backup service, explains how iCloud works and shows how it can automatically store your data and share your photos so you don't have to worry about losing information should anything happen to your iPhone. Written with the Senior reader in mine, and presented in larger type for easier reading. Covers all models of iPhone with iOS 12. ...Show more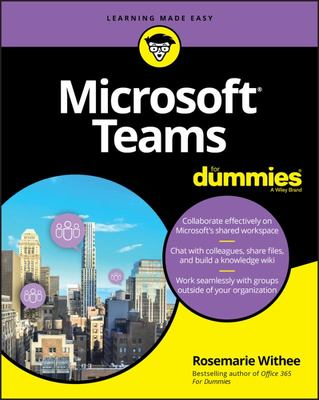 $42.95
AUD
Category: Information Technology and Computers
Discover the power of Microsoft Teams Millions of people access Microsoft Teams every day to assist with the collaboration it takes to get work done. That number continues to grow thanks to the countless communication tools for working with associates inside and outside your organization you can find in Microsoft Teams. If you're new to Microsoft Teams, start here. This book will give you must-have insight on chatting, file sharing, organizing teams, using video communication, and more. You'll also see just how you should be doing things, with best-practice recommendations and ideas for integrating Microsoft Teams into your existing workflows. Learn your way around Microsoft Teams and set up the interface Communicate via chat and video chat, inside and outside your org Integrate Teams with other Office apps for seamless collaboration Use Teams to optimize your meetings, build a knowledge wiki, and more Microsoft's shared workspace can help you get collaborative and stay connected to the people and files you need, whether you're at your desk or on the go.   ...Show more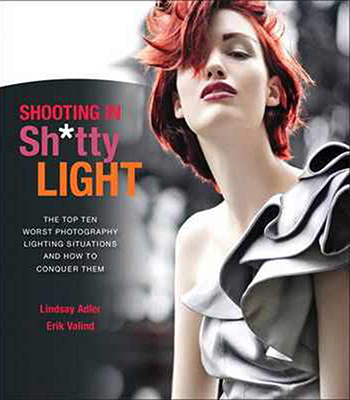 $29.99
AUD
Category: Information Technology and Computers
Sometimes photographers have to shoot in less than ideal lighting situations. Maybe the wedding is mid-day in the middle of a field, or perhaps the event is in a florescent-lit room. These scenarios can be particularly intimidating for beginning photographers who don't know how to handle the many undesi rable lighting situations they may encounter. In Shooting in Sh*tty Light, professional photographers Lindsay Adler and Erik Valind cover the top ten worst lighting situations and provide a variety of solutions for each. They explain which solutions are most practical and why one option might be preferable over another, examining such problems as extremely low lighting when no flash is allowed, strong backlight, and the light on an overcast day. Unlike other books that focus on natural light or lighting in general, this book addresses a very real need of beginning photographers, answering the question, "What do I do when the lighting is terrible?" Lindsay and Erik candidly show you the tools at your disposal, demonstrating the techniques essential to getting the job done with minimal fuss. * Shows how to deal with ten of the worst lighting situations, such as harsh midday light, extremely low light, and mixed light.* Offers real-life examples and practical solutions for handling poor light, such as identifying natural reflectors, bouncing light off a wall, or utilizing flash gels. * Features a fun, conversational style to help you conquer the fear of poor lighting and approach any lighting situation with confidence! ...Show more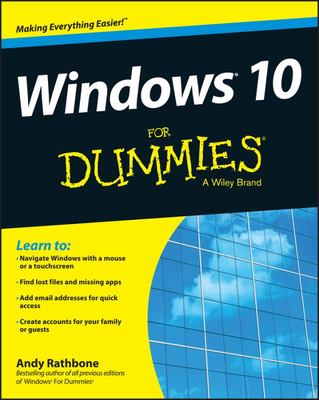 $35.95
AUD
Category: Information Technology and Computers
The fast and easy way to get up and running with Windows 10 Windows 10 For Dummies covers the latest version of Windows and gets you up and running with the changes and new features you'll find in this updated operating system. Packed with time-saving tips to help you get the most out of the software, t his helpful Windows 10 guide shows you how to manage Windows tasks like navigating the interface with a mouse or touchscreen, connecting to the web, and troubleshooting problems and making quick fixes. Assuming no prior knowledge of the software, Windows 10 For Dummies addresses the updates to Windows and shows you how to get things accomplished. Focusing on the features you'll go to again and again, this new edition of this bestselling tech book will have you quickly finding files, connecting to the Web, gathering your email and social accounts in one spot, managing apps, creating and managing accounts, using online tools, customizing your settings, and so much more making you a Windows whiz in no time. * Helps you navigate the twists and turns of the updated Windows interface * Provides easy-to-follow answers to all of your Windows questions * Illustrates the new features of Windows 10 * Quickly gets you up to speed on figuring out the changes to the latest version of Windows Whether you're new to Windows or just looking to get up to speed on what's changed in its latest release, this is the only resource you'll need. ...Show more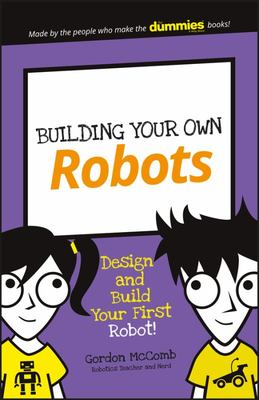 $14.95
AUD
Category: Information Technology and Computers | Series: Dummies Junior Ser.
Fun robotics projects that teach kids to make, hack, and learn There's no better way for kids to learn about the world around them than to test how things work. Building Your Own Robots presents fun robotics projects that children aged 7 - 11 can complete with common household items and old toys. The projects introduce core robotics concepts while keeping tasks simple and easy to follow, and the vivid, full-color graphics keep your kid's eyes on the page as they work through the projects. Brought to you by the trusted For Dummies brand, this kid-focused book offers your child a fun and easy way to start learning big topics They'll gain confidence as they design and build a self-propelled vehicle, hack an old remote control car to create a motorized robot, and use simple commands to build and program a virtual robot--all while working on their own and enjoying a sense of accomplishment Offers a kid-friendly design that is heavy on eye-popping graphics Focuses on basic projects that set your child on the road to further exploration Boasts a small, full-color, accessible package that instills confidence in the reader Introduces basic robotics concepts to kids in a language they can understand If your youngster loves to tinker, they'll have a whole lot of fun while developing their creative play with the help of Building Your Own Robots. ...Show more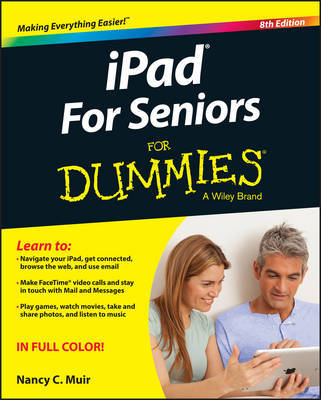 $35.95
AUD
Category: Information Technology and Computers
Break out your reading glasses iPad instructions for seniors are here! Tired of taking out the instructions for new tech gadgets, only to have the drab, eight point font prove basically illegible? Don't fret the solution is finally here! iPad For Seniors For Dummies, 8th Edition uses a larger font for b oth the text and its full-color figures and drawings, making this the perfect resource for new iPad owners in their golden years. The updated content walks you through the setup process and introduces you to the iPad's new hardware. Additionally, it runs through all of the features and functions of your iPad, including accessibility features, notes, the calendar, maps, surfing the web, email, buying new apps, downloading iBooks and iTunes, watching videos, and more. iPads are immensely popular and for great reason; iPads are wonderful means of communication and entertainment for all ages, including seniors. Learning to use your iPad's features and functions can greatly enrich your iPad experience! * Access updated coverage specifically developed for the latest generation of iPad products * Review the use of each function and feature, ensuring that you get the most out of your new iPad * Explore information about software, hardware, and the latest features of the updated iOS * Stay engaged throughout the entire book with a straightforward but fun writing style and plenty of full-color graphics iPad For Seniors For Dummies, 8th Edition is the perfect guide for the over-50 group who are either using an iPad for the first time or are upgrading to the latest iPad model. ...Show more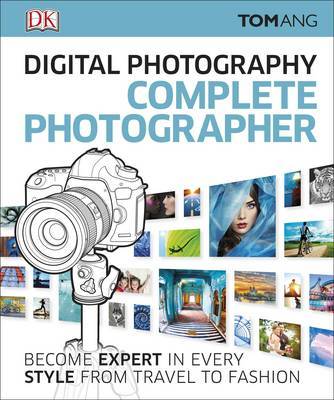 $45.00
AUD
Category: Information Technology and Computers
Completely unique in its broad appeal, scope, and stunning photography; Digital Photography Complete Photographer will appeal to anyone interested in photography, whether beginner or advanced. Behind-the-scenes features introduce the work of 20 top international photographers, showing in step-by-step de tail how an idea progresses from concept stage to final image. Based around tutorials on 10 different genres, covering both technical and creative aspects of photography from landscape photography to fine art photography, award-winning photographer Tom Ang takes you through assignments, image analysis, and critiques to work on and follow. This updated edition (previous ISBN: 9781405353311) includes the latest developments in technology, equipment and creative trends in digital image-making. ...Show more
Items per page:
1 - 10 of 10