$15.99
AUD
Category: Young Readers | Series: Skydragon
May 2021 Release  Amber is back! The second book in the high-flying adventure series from Anh Do.   Amber held her arms out. Surround me. Locusts, beetles, bees and all manner of flying insects nestled together tightly. Shapes formed. Horns on her head, claws on her hands and feet. A thick, long tail. She was a dragon! Amber is on the run. What will happen when she and the Firefighter finally come face to face?   ...Show more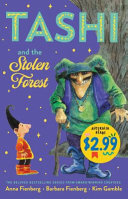 $2.99
AUD
Category: Young Readers
In this Australia Reads exclusive story, can Tashi use Much-to-Learn's spell to outsmart the Wicked Baron and stop the old forest from disappearing?  
$14.99
AUD
Category: Young Readers | Series: Funny Kid Ser.
Ready to see a real-life alien? Laugh your head off with the super-popular Funny Kid series! Every kid wants to laugh, but Max is the boy who can make it happen.He's also the kid who wants to spend the most boring school holidays ever coming up with the greatest prank of all time. Max is the funny kid a nd it's time to prank the world!Conspiracy theories, crop circles, alien invasions, a mayor who has lost his marbles and the most Un-Fun Fair in the universe are just some of the things in store for Max and his friends in this brand-new Funny Kid adventure.FUNNY KID is the mega-bestselling series from author-illustrator Matt Stanton that's got everyone laughing! PRAISE FOR FUNNY KID'my favourite thing in the book was everything' - Elliott'better than Wimpy Kid, Big Nate and Tom Gates combined' - Ally'humour is injected into every page' - Children's Book Council of Australia's Reading Time'absolutely hilarious' - Tim Harris, author of the Exploding Endings series   ...Show more
$14.99
AUD
Category: Young Readers | Series: Treehouse
The latest addition to Andy Griffiths and Terry Denton's internationally phenomenal Treehouse series.Andy and Terry live in the world's craziest treehouse. They like making books and telling jokes. And now they've made the world's funniest joke book. Again!From fairytale fun to classroom capers and movi e madness, there are jokes galore for the whole family. An especially perfect book for fans of the Treehouse series. Q: What did one ghost say to the other ghost? A: Do you believe in people? ...Show more
$16.99
AUD
Category: Young Readers
A delightfully funny and deeply relatable junior fiction story from one of Australia's most loved multi-media stars. Meet Stevie Louise. She is an entrepreneur (that's like a business person), an entertainer (obviously), and an extrovert on the inside (wait, is this a thing?). Stevie has a BRILLIANT PLA N. She's going to have fun, make money, and most importantly, make sure the Brooke Street kids stay best friends forever. Then a new neighbour arrives and threatens to derail all Stevie's plans. And then real disaster strikes. But the show must go on. After all, Stevie is a professional. A gloriously warm, funny and relatable story from much-loved comedian, writer, radio announcer and social media sensation Tanya Hennessy.   ...Show more
$14.99
AUD
Category: Young Readers | Series: The Treehouse
Andy and Terry have added 13 new levels to their treehouse and now it's even more out of this world than before! There's a soap bubble blaster, a GRABINATOR (it can grab anything from anywhere at any time), a time-wasting level, a toilet paper factory (because you can never have too much toilet paper), a room full of mechanical grandparents, a super long legs level, an extraterrestrial observation centre and the best bookshop-in-a-treehouse-in-a-tree-in-a-forest-in-a-book in the whole world! Well, what are you waiting for? Come on up! ...Show more
$17.99
AUD
Category: Young Readers | Series: Jack Heath Comedies Ser.
Levi is pretty sick of starring in Dad's stupid TV show, Kid Kablam. Because Levi is the kid who gets KABLAMMED! So far he's been knocked down, blown up, and attacked by wild animals. And Dad has one more scene planned-the most dangerous stunt so far. Can Levi survive this final stunt without seriously stacking it?   ...Show more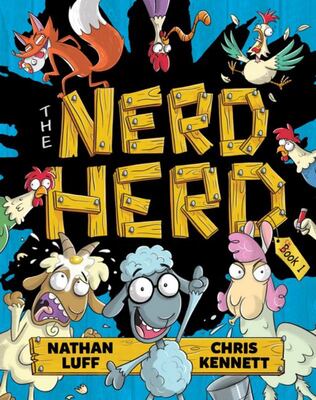 $14.99
AUD
Category: Young Readers | Series: Nerd Herd
Barny the Lamb and his friends are sick of being picked on. So they decide to form a gang to show everyone that they are not as soft as they look. But how do three fluffy friends stand up to a cunning fox, a gigantic cat, and a bull with behavioural issues?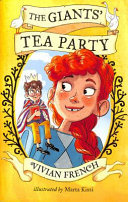 The Giants' Tea Party
by Vivian French Vivian; Marta Kissi Marta
$14.99
AUD
Category: Young Readers
A rollicking fairy-tale adventure from the makers of The Adventures of Alfie Onion, Tom & Tallulah and the Witches' Feast and The Dragon's Breakfast. "French is a skilled storyteller ... she reminds us how fresh a fairy tale can feel in the right hands." - The New York Times Prince Max is on a missi on. The royal family are down to their very last penny, so the king and queen have sent him away to the valley of the giants - with only a grumpy old donkey for company. According to legend, the giants are rich beyond all imagining: they live in gold palaces, drink from gold goblets and brush their teeth with gold toothpaste. But are the legends true and, even if they are, will the giants be willing to share their treasure? With the help of his donkey companion and Caromel, the talking cat, Max is about to find out. And he must keep his wits about him ... there are worse dangers than giants, lurking in the shadows! "French is a writer of tremendous charm, her world at once comedic and believable." - Literary Review   ...Show more
$17.99
AUD
Category: Young Readers | Series: Plum and Woo
A dazzling, whip-smart mystery series about two very different girls and a whole heap of danger …   Hannah Plum loves fashion, fun, and junk food. Patti Woo is obsessed with detective novels, lives in leggings, and is definitely not Hannah's friend. But the two girls are stuck at the beachside Heartbre ak Hotel together while Hannah's dad and Patti's mum are out birdwatching and – yuck! – falling in love.    When a hotel guest's beautiful pink wedding dress is stolen, Hannah is determined to get to the bottom of it. With a reluctant Patti in tow, the two girls are launched into an ever-deepening mystery. Why is a wedding planner sending secret signals to an unknown guest? Who's leaving creepy wet diving relics in the hotel rooms? And could some long-lost, famous pink pearls be at the heart of it all?   If Plum and Woo want to survive the summer, they'll need to solve this mystery in style. But first, they'll have to survive each other …   In every Plum & Woo instalment, Hannah and Patti will investigate a surprising and sinister fashion mystery while also navigating their newly blending family. Brimming with fun, danger and highly relatable tween angst, this series is perfect for 9+!      ...Show more
$14.99
AUD
Category: Young Readers | Series: Frankie Fish Ser.
From Australia's favourite comedian and beloved children's author Peter Helliar comes the final adventure in his bestselling Frankie Fish series.  When Frankie and his best friend Drew head back to the Middle Ages for one last trip with the Sonic Suitcase, they're in for some strange surprises. What kin d of knight rides a pig into battle? Who's the mysterious stranger who turns up right when Frankie's in serious trouble? And what could possibly make Drew want to stay in the Middle Ages forever?​ Only one thing is certain: Frankie's last time-travel adventure will be one to remember …​ The sixth Frankie Fish adventure is finally HERE! Peter Helliar's hilarious bestselling series is back and our favourite time-travellers, Frankie and Drew, are on their biggest mission yet …   ...Show more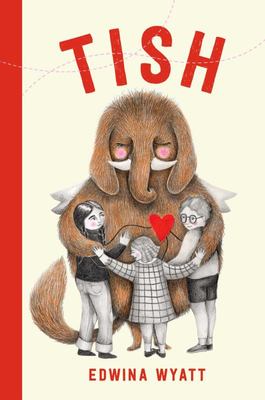 Tish
by EDWINA WYATT
$19.99
AUD
Category: Young Readers
Tish is the story of a lovable imaginary friend who is looking for his place in the world and finds it through his companionship with three different children who need him. It's a story of friendship, goodbyes and longing, and a tale of having the confidence to believe.