$12.99
AUD
Category: Classics | Series: Popular Penguins Ser.
'All of the true things I am about to tell you are shameless lies.' Dr Felix Hoenikker, one of the founding fathers of the atomic bomb, has left a deadly legacy to the world. For he is the inventor of Ice-nine, a lethal chemical capable of freezing the entire planet. The search for its whereabouts lea ds to Hoenikker's three eccentric children, to a crazed dictator in the Caribbean, to madness. Will Felix Hoenikker's death wish come true? Will his last, fatal gift to humankind bring about the end that, for all of us, is nigh? Told with deadpan humour and bitter irony, Kurt Vonnegut's cult tale of global apocalypse preys on our deepest fears of witnessing the end and, worse still, surviving it . . . 'The time to read Vonnegut is just when you begin to suspect that the world is not what it appears to be. He is not only entertaining, he is electrocuting. You read him with enormous pleasure because he makes your hair stand on end' - New York Times 'One of the warmest, wisest, funniest voices to be found anywhere in fiction' - Daily Telegraph 'Vonnegut has looked the world straight in the eye and never flinched' - J.G. Ballard ...Show more
$12.99
AUD
Category: Classics | Series: Popular Penguins Ser.
Charlotte Bronte (21 April 1816 - 31 March 1855) was an English novelist and poet, the eldest of the three Bronte sisters who survived into adulthood and whose novels have become classics of English literature.The literary heritage of the Bronte sisters entered the treasury of national English culture g aining recognition far beyond England. Particular success fell on the novel written by Charlotte Bronte Jane Eyre which was subsequently filmed. Written with sincerity and passion, the novel does not age and does not lose its charm. This novel is still one of the most popular classical works of the XIX century. The strength of his influence lies in the truth of the senses, in their truth, in the combination of the real with the romantic, in the captivating fascination of history, a simple little governess capable of great and faithful love, having managed, having overcome all the vicissitudes of fate in order to find her own happiness. ...Show more
$12.99
AUD
Category: Classics | Series: Popular Penguins
Moral allegory and spiritual autobiography, The Little Prince is the most translated book in the French language. With a timeless charm it tells the story of a little boy who leaves the safety of his own tiny planet to travel the universe, learning the vagaries of adult behaviour through a series of ext raordinary encounters. His personal odyssey culminates in a voyage to Earth and further adventures. ...Show more
$12.99
AUD
Category: Classics | Series: Popular Penguins
Count Dracula's castle is a hellish world where night is day, pleasure is pain and the blood of the innocent prized above all. Young Jonathan Harker approaches the gloomy gates with no idea what he is about to face . . . And back in England eerie incidents are unfolding as strange puncture marks appear on a young woman's neck . . . But can Harker's fiancé be saved? And where is the evil Dracula? ...Show more
$12.95
AUD
Category: Classics | Series: Text Classics Ser.
Set in the leafy northern suburbs of Sydney during the 1940s, The Watch Tower is a novel of relentless and acute psychological power. Following their father's death, Laura and Clare are withdrawn from their elite private boarding school by their mother. As their mother slowly withdraws from them, the tw o are left to fend for themselves. Laura's boss Felix is there to help, even offering to marry Laura if she will have him. However Felix is not all that he seems and little by little the two sisters grow complicit with his obsessions, his cruelty and his need to control. ...Show more
$12.99
AUD
Category: Classics | Series: Popular Penguins Ser.
Written in China more than 2,000 years ago, Sun Tzu's classic The Art of War is the first known study of the planning and conduct of military operations. These terse, aphoristic essays are unsurpassed in comprehensiveness and depth of understanding, examining not only battlefield maneuvers, but also rel evant economic, political, and psychological factors. Indeed, the precepts outlined by Sun Tzu can be applied outside the realm of military theory. It is read avidly by Japanese businessmen and in fact was touted in the movie Wall Street as the corporate raider's bible. The Art of War is the definitive study of combat. ...Show more
$12.99
AUD
Category: Classics | Series: Popular Penguins Ser.
The Trial (original German title: Der Process,later Der Prozess, Der Proceß and Der Prozeß) is a novel written by Franz Kafka from 1914 to 1915 and published in 1925. One of his best-known works, it tells the story of a man arrested and prosecuted by a remote, inaccessible authority, with the nature of his crime revealed neither to him nor to the reader. Heavily influenced by Dostoyevsky's Crime and Punishment and The Brothers Karamazov, Kafka even went so far as to call Dostoyevsky a blood relative. Like Kafka's other novels, The Trial was never completed, although it does include a chapter which brings the story to an end.After Kafka's death in 1924 his friend and literary executor Max Brod edited the text for publication by Verlag Die Schmiede. The original manuscript is held at the Museum of Modern Literature, Marbach am Neckar, Germany. The first English language translation, by Willa and Edwin Muir, was published in 1937. In 1999, the book was listed in Le Monde's 100 Books of the Century and as No. 2 of the Best German Novels of the Twentieth Century. ...Show more
$12.99
AUD
Category: Classics | Series: Popular Penguins Ser.
In this collection of stories, Dahl tantalizes, amuses, and sometimes terrifies readers into a sense of what lurks beneath the ordinary. Included in this collection are such notorious gems of the bizarre as "The Second Machine," "Lamb to the Slaughter," "Neck," and "The Landlady."   Other stories expl ore: A wine connoisseur with an infallible palate and a sinister taste in wagers. A decrepit old man with a masterpiece tattooed on his back. A voracious adventuress, a gentle cuckold, and a garden sculpture that becomes an instrument of sadistic vengeance. Social climbers who climb a bit too quickly. Philanderers whose deceptions are a trifle too ornate. Impeccable servants whose bland masks slip for one vertiginous instant.   With the inventive power of a Thomas Edison and the imagination of a Lewis Carroll...Roald Dahl is a wizard of comedy and the grotesque, an artist with a marvelously topsy-turvy sense of the ridiculous in life." -Cleveland Plain Dealer ...Show more
The Brothers Karamazov
by Fyodor Dostoevsky; Richard Pevear (Translator); Larissa Volokhonsky (Translator)
$14.99
AUD
Category: Classics | Series: VINTAGE CLASSICS
The Brothers Karamazov is a passionate philosophical novel set in 19th century Russia, that enters deeply into the ethical debates of God, free will, and morality. It is a spiritual drama of moral struggles concerning faith, doubt, and reason, set against a modernizing Russia. Includes unique illustrati ons! ...Show more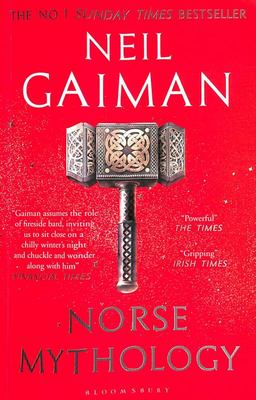 $19.99
AUD
Category: Classics
The great Norse myths, which have inspired so much of modern fiction, are dazzlingly retold by Neil Gaiman. Tales of dwarfs and frost giants, of treasure and magic, and of Asgard, home to the gods: Odin the all-father, highest and oldest of the Aesir; his mighty son Thor, whose hammer Mjollnir makes the mountain giants tremble; Loki, wily and handsome, reliably unreliable in his lusts; and Freya, more beautiful than the sun or the moon, who spurns those who seek to control her. From the dawn of the world to the twilight of the gods, this is a thrilling, vivid retelling of the Norse mythology from the award-winning, bestselling Neil Gaiman. ...Show more
$12.95
AUD
Category: Classics | Series: Text Classics Ser.
A classic novel by a superb observer of contemporary manners, The Women in Black illuminates on every page the extraordinariness of ordinary lives. It's Sydney in the late 1950s, and the Ladies' Cocktail Frocks department of the famous F.G. Goode department store is bracing itself for the Christmas rus h. The women that make up its staff-in their regulation black dresses-are run off their feet, but there's just enough time left to dream and scheme. By the time the last marked-down frock has been sold, most of the staff will have been launched into different careers. Madeleine St Johnwas born in Sydney. She graduated from Sydney University in 1963 and lived in London for most of the succeeding years, until her death in 2006. The Women in Blackwas her first novel, followed by A Pure Clear Light, 1996, The Essence of the Thing(shortlisted for the Booker Prize), 1997, and A Stairway to Paradise, 1999. 'Seductive, hilarious, brilliantly observed, this novel shimmers with wit and tenderness.' Helen Garner 'Funny, affectionate, moving and written with a light, comic touch.' Monica McInerney, Australian Women's Weekly 'This glorious, witty snapshot of Australia in the 1950s...it really is a gem in the rough....This is no nostalgia piece for a lost way of life, but a clever, funny argument for why things had to change.' Sunday Times 'An excellent read.' Starts at 60 ...Show more
$12.99
AUD
Category: Classics | Series: Popular Penguins Ser.
Wuthering Heightsby Emily BrontePerhaps the most haunting and tragic love story ever written, Wuthering Heights is the tale of Heathcliff, a brooding, troubled orphan, and his doomed love for Catherine Earnshaw. His desire for her leads him to madness, however, when Catherine is made to marry a wealthy lord, sending Heathcliff on a life-long quest to avenge himself upon those who stole his only love and his life. In this gripping chronicle of the never-ending conflict between the heart and the mind - and the pain and passion of true romance. ...Show more